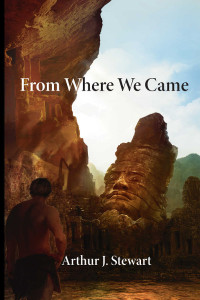 Art Stewart's fifth volume of science-based poetry explores the the latest findings on human origins. "Reaching deep into compelling examples from human history, and the history of our natural world, Stewart delivers carefully crafted meditations that seamlessly braid fact, loss, longing, and imagination.
"As Stewart notes, the reach of modern science is indeed vast, but it is certainly not devoid of wonder. The armchair time-traveller and lab-bench scientist alike will be richly rewarded by even a casual walk through Stewart's territory…"
---
A St. Patrick's special two-for-one offer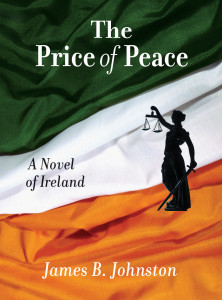 What a nice way to honor your friends and family on St. Patrick's day with two books set in Ireland, especially when you can purchase both books for the price of one. When you purchase The Price of Peace ($25), you receiveExile Revisited absolutely free (a $15 value).
The Price of Peace is James Johnston's legal thriller about a young widow who is charged with the murder of two paramilitary prisoners after they are released from prison under the terms of the Belfast Peace Agreement. In a stunning development, the prime witness for the prosecution is the person who master-minded the bombing that killed the defendant's husband and only child.
As you consider the evidence presented by the prosecution and the defense, you will be able to go to a web-site and vote anonimously on whether the defendant is guilty or innocent on one or both murder charges. You will then follow the jury deliberations and read about the ultimate outcome of the trial.
Celtic Cat tracks and summarizes readers responses and periodically, or upon request, publishes the status of votes received.
Exile Revisited is Johnston's collection of poems and essays that "explore the varied and complicated implications of exile: the yearning for home ground and its attendant values of family, memory, connection."
With good reason, Ireland has been called a nation of exiles. The population of Ireland was a little over 8 million in 1841. Today the population is 4.5 million. In the 1840s and 1850s alone, about 1.5 million people immigrated to the United States as a result of famine. Many were to follow in later years, some in search of jobs, others seeking greater religious or political freedom, many fleeing from the violence of war.
Johnston was born in Belfast,Northern Ireland and educated at Trinity College, Dublin. He lived in Belfast and left Ireland during The Troubles.
The Price of Peace hardcover & Exile Revisited
---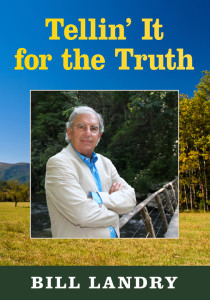 Bill Landry's new book, Tellin' It for the Truth is available in both hardback and softcover editions.
Knoxville News Sentinel columnist, Sam Venable, says that "the stories in Tellin' It for the Truth are different. Some like The Harlequin Massacre and The Great River Adventure are personal, even disturbing." He adds, "Maybe, that's why Bill has waited almost half his life to tell them."
Landry notes that Tellin' It for the Truth is a collection of sixteen true stories, and as Ray Hicks' always said, "When you hear someone say, 'He's tellin' it for the truth,' you know something good is coming!"
The book includes Bill's favorite longer stories, some of which have never been published. It even includes an epic poem about a love sick one-armed, one-legged Pirate, named Paddy O'Dea. According to Landry, "All great stories once told are told again."
No Landry book is complete without his humorous East Tennessee "Little Stories." Here's one to whet your appetite:
In Grainger County, the extension agent, Charlie Gavin, stopped by to see Roscoe Stinnett on his pig farm. He found Roscoe in the orchard under the apple tree. But, the hogs had eaten all the apples on the ground. So Roscoe was picking up a pig and lifting it up so it could snag an apple off a limb. He was doing this one right after another.
"Hey Roscoe," Charlie said. "Boy isn't that a lot of work picking up pigs like that, just so they can eat an apple? Doesn't that take a lot of time?"
The farmer just looked at Charlie and replied, "What's time to a pig?"
The Unmade Moose is the much-anticipated sequel to Lisa Soland's successful debut children's novel, The Christmas Tree Angel. The sequel is an inspirational holiday story about an unfinished stuffed toy who one day meets the angel, and she tells him that he was made on purpose and for a reason. Shortly after, his long-awaited adventure begins.
Abbott Brayton follows up his successful debut novel, Outpost Scotland, with another historically and geographically accurate story of David McKenna's World War II adventures, Highland Brigadier: A World War II Novel. McKenna's participation in the disastrous raid on Dieppe provides the backdrop to a story that takes the reader into the complex and controversial political decisions that often direct military strategy in time of war.
This beautifully illustrated children's book is an inspirational holiday story about an angel ornament that is given to the Brown family on Christmas Eve. Once placed on the tree, the angel meets new friends who share the news of what will become of them when Christmas is over. Determined to escape the dreaded storage box, they work together on an idea that just might bring them the freedom and purpose they desire.
The Christmas Tree Angel is suitable for third grade and up, and will inspire and bring hope to all ages.