Judy DiGregorio's second collection of humorous essays. Connie Jordan Green comments, "If laughter is the best medicine, Memories of a Loose Woman is worth a cupboard full of pills."
ISBN: 9780981923833
$15
Memories of a Loose Woman
Reviews
"Judy takes a nugget of the everyday and whacks the reader's funny bone. Her stories are a delight."
—Darnell Arnoult
"If laughter is the best medicine, Memories of a Loose Woman is worth a cupboard full of pills."
—Connie Jordan Green
"In this smart, witty, and irreverent collection of meditations, Judy DiGregorio scores the literary equivalent of a game-winning slam dunk."
—Eddie Francisco
"Each essay is a glimpse of joy realized and upended, a choice slice of life, a lemon-zest punch at the end."
—Linda Parsons Marion
"Judy tells of travels and adventures with the keen wit of a skilled observer whose affection for family and refuge of home connects with all of us."
—Alex Gabbard
Excerpts
from The Quick Fix Diet
When Dan returned, I opened the front door to let him in. He waddled like a tired penguin as he came down the sidewalk. Every step, he tripped on his jeans.
"What's wrong with you, Dan?" I asked. "Why are you walking that way? Did you hurt yourself?"
"It's these jeans. Look at them. They're so tight I couldn't even zip them up this morning. It's a good thing no one stopped me for speeding or I'd have been arrested for indecent exposure. I definitely need to lose some weight."
I looked closely at Dan as he continued to take small mincing steps into the house.
"It looks like you gained some weight and lost some leg, Dan. Those jeans are dragging the ground. Is that because you couldn't pull them up all the way?"
"I don't know, but they sure are uncomfortable," Dan mumbled sullenly.
Suddenly I understood why the jeans didn't fit Dan.
"I don't think you need to lose as much weight as you think, Dan."
"What do you mean?" he grunted, sitting down on the bed.
"Those aren't your jeans. You slipped mine on by mistake. They were lying on the same chair with yours. No wonder you couldn't zip them up. We're not quite the same size or build," I said laughing.
Dan jerked off my jeans and replaced them with his own. He felt ten pounds lighter as soon as he realized he could snap them at the top.
"You don't know how lucky you are, Dan. Some of us diet for years to lose weight, but you did it just by switching jeans."
from A Woman's Best Friend
A man's best friend is his dog, but a woman's best friend is her purse.
A purse is more than a mere accessory. It's an emergency stash, a lifeline, the fiber of our being. Purses are essential for items such as make-up, medicine, address books, calculators, cell phones, calendars, sewing kits, eyeglasses, paperback books, wallets, Blackberries, breath mints, cameras, first aid kits, gum, and hair spray. That's just the tip of the iceberg. Some women carry shoes, screwdrivers, tape measures, and even a Yorkshire terrier in their purse.
Choosing the right purse for the occasion is part of the fun. That's why women have an average of 20 – 25 purses apiece. Our inventory includes handbags such as satchels, backpacks, shoulder bags, pouches, clutch purses, cross-body purses, fanny packs, and organizer purses. We are not vain; we are practical.
from Do-Si-Do
An elderly, gray-haired woman with cold cream on her face soon exited the bathhouse door. Evidently, she'd not heard our warnings. She wore a loosely tied, pink chenille bathrobe with matching fluffy slippers. Large gray metal curlers covered her head giving her an alien-like appearance. With a towel carefully draped over one arm, she daintily carried her toiletries in a pink cosmetic case.
Suddenly she and the bear were face to face. I don't know who was more surprised. The bear stood up on its hind legs and squalled; the lady threw up her arms and shrieked. The rest of us howled with laughter at the sight. The cosmetic case crashed to the ground scattering soap, toothbrush, and unused curlers. The woman's robe slid off one shoulder as the wet towel slapped her in the head. She flung the towel aside, spun around, and wobbled away as fast as she could.
The panicked bear also changed direction and galloped off the opposite way around the bathhouse. The pair met again on the other side like two square dancers. A cacophony of sounds filled the night air as the lady fled to her campsite, and the bawling bear sprinted for the woods. I doubt it returned to that campsite for some time.
Author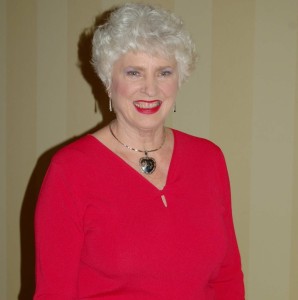 Judy DiGregorio is humor columnist for Anderson County Visions Magazine. She also writes press releases for the Oak Ridge Community Playhouse, where she frequently appears on stage. Her work has appeared in New Millennium Writings, Ridges Magazine, Eva Mag, CC Motorcycle News Magazine, CityView, Church Musician Today, and numerous anthologies including the Chicken Soup books. Judy has published more than 300 essays and humorous poems in regional and national publications such as The Writer, Army/Navy Times, and ByLine Magazine.
In addition to her writing, Judy is a sought after speaker who has spoken at the Mountain Heritage Literary Festival, the Alabama Writers' Conclave, the Knoxville Writers' Guild, Knoxville Writers' Group, the Tennessee Mountain Writers, the University of Tennessee Non-credit Programs, and for numerous clubs and organizations around Knoxville.The Tennessee Arts Commission nominated her to their online artist registry, Southern.Artistry.com, in 2006.
Celtic Cat Publishing, Knoxville, published Life Among the Lilliputians, a collection of Judy's humorous essays in late 2008, and the book was selected for the 2009 Southern Festival of Books. Judy's second book from Celtic Cat Publishing, Memories of a Loose Woman, will be released in the summer of 2010. Her ten-minute play, Let There Be Light, was recently included in a staged reading at Pellissippi State Technical Community College.
Visit Judy's website and blog at www.judyjabber.com