by Laura Still
This inspirational debut collection of sixty-two poems celebrates the spirit's victory over loss and sorrow. Marilyn Kallet says, "each object, moment and event is wrapped tenderly in the lyrical weave of redemptive song."
978-0-9819238-2-6
$15.00
Guardians
Praise:
"Many of these poems read like praise song, whether describing childhood's lost landscape, Paris at twilight, or carrying a stone into the labyrinth. Like a labyrinth and the many rivers that course through it, this collection reads like a journey, a joyful and heartfelt seeking toward a deeper emotional and spiritual connection in the human as well as heavenly realm."
—Judy Loest
"Generous, accessible, and unaffected, these poems are little phoenixes like the fireweed in the poem by that name. Each one of them celebrates the spirit's victory–art's victory–over loss and sorrow. Each object, moment, and event is wrapped tenderly in the lyrical weave of redemptive song."
—Marilyn Kallet.
"Laura Still's debut collection of poems shimmers like a painting; her word canvas is color-driven with themes of light and shadow that contour a sense of wonder and mystery. Animals and minerals, trees and plants, fire, air, water, earth—these are the elements Still offers as an open prayer, "small graces" that remind us that "we find our best strength / when brought to our knees." In this journey we ride "the river of words forgotten" as the poet searches for love, for spirituality, for miracles of resurrection amid loss and destruction. Guardians is a "gracious fire" of words and images."
—Marianne Worthington
"This is a beautiful gathering of poems. They lift the heart and eyes to numinous windows lit with voice, spirit, grace."
—Don Williams
Author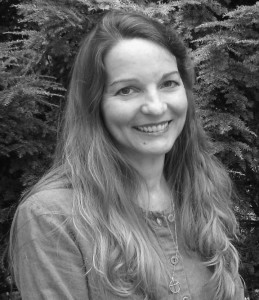 Laura Still is a poet and playwright who wears many hats. She works regularly as a dental hygienist and sales assistant, seasonally as a USTA certified tennis umpire and daily as a mother of two. She screens contest entries for New Millennium Writings as a contributing editor. She has served Knoxville Writers' Guild since 1998 as a workshop instructor, Peter Taylor Prize screener and as a judge of the guild's Young Writers' Poetry Prize. Her poetry has been published in each of the guild's anthologies since 2001.
She has worked as a stage manager for the Tennessee Stage Company. Laura draws frequent inspiration from her travel, including sailing and kayaking trips and her service as a member of Church Street United Methodist Church as Sunday school teacher, labyrinth guide and Archangel in the church's annual Walk Through Bethlehem. She has written and produced over 50 plays for the church's children's drama workshop. A selection of these plays will be published soon as a teaching manual entitled Acts of the Apostles.
Excerpts
Dog Days
Summer loses its charm in humidity.
Moist breeze pants against wetter skin,
heat lolls in shade, whines in the sticky night,
howls at heavy moon drooling silver
over steamy earth.
Should I wake this last morning, witness
that heliacal rising, what would follow?
Drought we already have, and plagues, madness—
would there be flood, the coming of waters
to irrigate, fertilize, heal the land?
Would the Sparkling One scorch my mortal
eyes with splintered light, flickering all colors
in hot unsteady air, mingling
its rays with our sun?
The path to knowledge lies in darkness,
in the mechanical scream of my alarm clock
pulling me from bed the one morning
sleep is allowed past dawn, to seek some
high place, away from ambient light,
and see what Sirius can tell me.
Remembering the Jordan
for my sons
There is a river in Judea
that I heard of long ago,
and it's a singing, ringing river
that my soul cries out to know.
Late afternoon in January, the water
stings when I plunge my hands in.
Silver drops fall on my cheeks
as I draw the sign on my brow,
the baptismal sign. Once by water,
next by. . . fire? Blood?
The banks are running in blood now,
but if there is a window of peace
before the end
I will take you there.
We will find our way to that river—
maybe not to the same place,
but water recycles itself,
evaporates, condenses,
rains down from heaven
to comfort God's children
still waiting below.
The Second Thief
Inhale at the entrance, my chest tight
with frustration, thoughts a yammer
of questions, confusion. Exhale,
stoop to touch the chime. Its tone
carries me in, every stride a slackening,
till my pace slows to notes of a song.
Jesus, remember me
when you come into your kingdom.
Jesus, remember me
when you come into your kingdom.
Give me faith like the second thief,
enough to watch hope bleed and die,
yet believe in an indestructible kingdom
waiting beyond this dark curtain of pain.
Jesus, remember me
when you come into your kingdom.
Jesus, remember me
when you come into your kingdom.
One day the crushing Babel will hush
as someone speaks my name and I turn,
find him at my side, as he has always been,
waiting for my eyes to open,
waiting for me to remember who I am.
Tristramit
At the Masada
through the tour of Herod's palace—
gatehouse, storerooms, baths,
guard towers, even a swimming pool—
I hear them.
Did others before me?
Those who came to build and fortify
these walls,
others who watered the top of the mountain,
tilled soil in the garden,
even Herod, grand and omnipotent over the earth,
looking down
at the world spread out as a feast
for his royal pleasure,
Macabees at worship in the synagogue,
Byzantine brothers at prayer,
or lately scholars
seeking secrets among these ancient stones—
did they hear
the tristramit singing
and raise their eyes
to an infinite crystal of blue?
Did they fall on their knees
humbled by the power,
the wonder, of a Creator
who sent small black birds
into this desert place
to cry in tiny voices
"the sky, the sky"
reminding us
to look up
and see?
Gratitude
A prayer to all angels who speak to us,
in whatever forms they take,
for we are imperfect instruments
for voices from beyond, waiting patiently
where the veil grows thin, knowing
only sometimes will we hear
echoes of faint music,
feel cool otherworld air,
sting of heat in our chest—
and allow our hearts to shift,
pulled toward a lit window of grace.