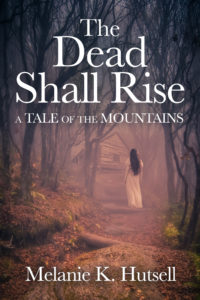 Melanie K. Hutsell's debut novel, The Dead Shall Rise, employs magical realism and the earthy authenticity of Appalachia to create its modern folktale world, both beautiful and baleful. It is set in the mountain village of Beulah Creek, whose ordinary inhabitants are unsettled by the arrival of a stranger seeking shelter from a mysterious past.
The woman, who calls herself Malathy Joan, moves into the haunted Greenberry place. Though she attracts friends and admirers as she tries to heal the atmosphere of deceit and disaster in the abandoned house, the spirits of its dead cannot rest and tragedy once more threatens to change Beulah Creek forever.  Two chapters from the novel (in slightly different form and under a different title) won first place in the Tennessee Writers' Alliance Novel Competition in 2001, awarded at the Southern Festival of Books in Nashville.
A native of Kingsport, Tennessee, Melanie currently lives in Maryville, but she has many treasured childhood memories of visiting her maternal grandmother, Mamaw, at the family farm in Plainview. Her short fiction has appeared in Appalachian Heritage, Still: The Journal, Trajectory, and the Knoxville Writers' Guild anthology, Outscape: Writings on Fences and Frontiers. An avid reader and music lover, she has also published poetry in The Sow's Ear.
$15 The Dead Shall Rise – Hutsell
"This is the highest caliber of story-telling in the tradition of Thomas Hardy or Lee Smith, yet completely original as well, told in the unmistakable and singular voice of Hutsell, who has carefully crafted each sentence so that we know we're in the hands of the truest of writers. The Dead Shall Rise is a beauty." –Silas House author of Clay's Quilt and A Parchment of Leaves
"Melanie Hutsell brings the mountain town of Beulah Creek to life. Ordinary people live ordinary lives until a stranger arrives among them. Walking away from a past that haunts her, she walks into a present that will haunt her and the rest of the town. Taking up residence in the Old Greenberry place, Malathy Joan gathers a circle of friends and begins to renew herself until the spirits of the dead and fallen stars take her away from the sphere of her true friends. Full of suspense and magical realism, The Dead Shall Rise creates a landscape, both gorgeous and ominous, for the reader's exploration." –Jane Hicks author of Driving with the Dead