Judy DiGregorio's first collection of humorous stories.
ISBN: 9780981923802
$16; soft cover
Life Among the Lilliputians
Reviews
"On the surface, Judy DiGregorio's vignettes may seem light and simple. They are anything but. These short pieces delve into the things that really matter: the love for grandchildren, the complexities of marriage, the way we'll do anything (even carry an entire newspaper route) for our children. These essays are hilarious, touching, and often profound. This is one of those books that make you feel better about being a human being."
–Silas House, author of The Coal Tattoo and A Parchment of Leaves
"Judy DiGregorio will make you smile, then chuckle, then belly laugh. She helps us recognize the humor in our own rich lives."
–Darnell Arnoult, author of a novel, Sufficient Grace, and a book of poetry, What Travels with Us
"Judy DiGregorio has a talent for finding humor in everyday events. In these highly personal pieces, she transforms the most uncomfortable social blunders into comical situations and, laughing all the way, sweeps us along for the ride."
–Jeanne McDonald, author of a novel, Water Dreams, and co-author, with husband Fred Brown, of Growing Up Southern and The Serpent Handlers
"Judy DiGregorio writes with a joi (e) de vivre, self-deprecating wit and a largeness of spirit that could only come from one as big-hearted, brassy and generous as she is in person. You'll love these upbeat stories and anecdotes spun from the stuff of her life and relations. I heartily endorse this book."
–Don Williams, writer and founding editor of New Millennium Writings
"Erma Bombeck has a worthy successor in Judy DiGregorio. You'll laugh yourself silly over her comical attempts to charm the in-laws under trying circumstances or deliver her son's papers when he falls ill. Judy has a real talent for making the events of everyday life enormously entertaining."
–Carolyn Jourdan, author of Heart in the Right Place
Excerpts
from Make Love, Not Sausage
New relationships must be as carefully handled as spumoni ice cream on a hot summer day. Otherwise, they can easily melt away.
When my husband Dan brought me home for the first time to meet his family, many years ago, I resolved to impress them with my even temperament and sparkling personality. They would immediately understand why their son had chosen me as his future bride.
Dan's father inclined his head of thick black hair as he shook my hand. He had huge muscular arms from his years in the coal mines. Dan's mother wore her gray hair pulled back in a bun. Her smoldering green eyes stared intensely at me.
"Piacere (my pleasure)," she said, hugging me to her.
Dan's parents were a bit nervous, just like me, but I knew they wanted to make me feel welcome. They decided to do it by honoring me in a traditional Italian manner – by preparing and serving a meal with homemade sausage.
I'm a pastry lover, not a meat lover. I would have preferred homemade canolli or biscotti, but I didn't want to offend Dan's family by telling them that.
To show what a special guest I was, they invited me to help make the sausage. Soon I stood in the blue and white kitchen with a muslin apron wrapped around me. I admired the copper pots and pans hanging on one wall as I inhaled the smell of fresh garlic and percolating coffee.
To my horror, Dan's mother directed me to stand at the sink and help wash fresh lamb intestines. I had no idea these were used to make sausage. The slippery, slimy gelatinous mass of intestines repulsed me. The kitchen looked like a scene from a horror movie with intestines flung everywhere — the table, the countertops, and the floor. They looked like primeval monsters struggling to evolve into a higher life form. I expected them to start crawling towards me at any minute. One of them had a dark spot resembling an eye. I felt it watching me.
from The Shape of Things to Come
My efforts in pilates toned my body, but it still needed help. I decided that using exercise machines would burn up more calories and provide me with a more challenging workout.
Bravely, I took the plunge and enrolled at a fitness club. My heart raced as I stared at the first monster. Slowly, I backed up. Suddenly, a man's voice yelled out, "Don't be afraid. You can do it."
With a sob in my throat, I took a deep breath and prayed for strength. Then I climbed aboard the cross-trainer. Placing my feet inside foot pads designed for a Sasquatch, I stared at the small screen on top of the machine. Which button should I push? Fat Burn, Manual, Cardio, Quick Start? As I clung to the rubber – tipped handlebars, a friend wandered by.
"Press Quick Start to get going, Judy."
"Thanks," I replied, pushing the button.
Like a sleeping Goliath, the machine jerked to life. Involuntarily, I pressed the pedals up and down, up and down. Something didn't feel quite right.
Another friend approached, observing my discomfort. "You do realize you're going backwards, don't you?" she informed me.
"Sure," I lied. "That's how I warm up."
Author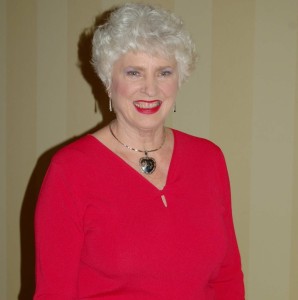 Judy DiGregorio currently resides in Oak Ridge, Tennessee. She is the humor columnist for Anderson County Visions Magazine, but her work also appears in New Millennium Writings, Ridges Magazine, Eva Mag and CityView Magazine. Judy has published close to 300 essays and humorous poems in regional and national publications such as The Writer, Army/Navy Times, and ByLine Magazine. She also has three stories in Chicken Soup books.
In addition to her writing, Judy is a sought after presenter and speaker who has given workshops for the Appalachian Writers" Association, the Alabama Writers' Conclave, the Knoxville Writers' Group, the Tennessee Mountain Writers, and the University of Tennessee Non-credit Programs. The Tennessee Arts Commission nominated her to their online artist registry, Southern.Artistry.com, in 2006, and the Oak Ridge Observer named Judy Best Local Writer in 2007.
Visit Judy's website and blog at www.judyjabber.com