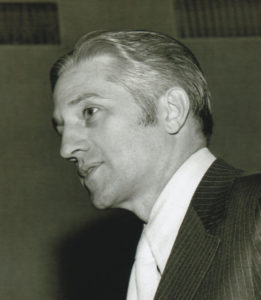 Dr. J.C. (Jim) Tumblin is a 1944 graduate of Central High School. His lifetime interest in history began in Nannie Lee Hicks' senior American History class at Central High School. A graduate of the Illinois College of Optometry, he practiced behavioral optometry in Fountain City for forty-six years—in the historic Fountain Head Building for the latter part of his career. Tumblin is the past president of the Tennessee Optometric Association (1962), the American Optometric Association (1972) and the Optometric Extension Program Foundation (1982-1987).
He has received the following honors: the Tennessee Optometrist of the Year (1975), the Fountain City Man of the Year (1999), the Claude C. Myers Lifetime Achievement Award (2006), the Knox Heritage Media Award (2013), the Fontinalis Award for Outstanding Contribution in Writing (2013) and the Knoxville Central High School Wall of Fame (2013). He is the co-author of Images of America: Fountain City (2004), lives in the Kesterwood subdivision and enjoys gardening, travel and East Tennessee history as leisure time activities.
Author of:
The history of Knoxville's most fiercely independent community in the stories of 56 extraordinary citizens. Taking his inspiration from two excellent local histories, The French Broad Holston Country and Heart of the Valley, local historian Dr. Jim Tumblin has compiled an in-depth look at the some of the key people who shaped the history of Fountain City. The stories of the lives of these individuals offer us a window into the life of the community across time.