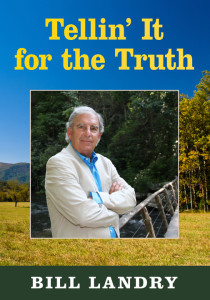 Knoxville News Sentinel columnist , Sam Venable, says that "the stories in Tellin' It for the Truth are different. Some like "The Harlequin Massacre" and "The Great River Adventure" are personal, even disturbing." He adds, "Maybe, that's why Bill has waited almost half his life to tell them."
Landry notes that Tellin' It for the Truth is a collection of sixteen true stories, and as Ray Hicks' always said, "When you hear someone say, 'He's tellin' it for the truth,' you know something good is coming!"
The book includes Bill's favorite longer stories, some of which have never been published. It even includes an epic poem about a love sick one-armed, one-legged Pirate, named Paddy O'Dea. According to Landry, "All great stories once told are told again."
Landry has written these stories hoping to please his fans, readers, the public, and his creditors! He hopes to spend the remainder of his life retired on some remote island or a swamp.
hardback
ISBN: 978-0-9891380-1-7
$32
tellinitTellin' It for the Truth – hardcover
softcover
ISBN: 978-0-9847836-4-9
$20
tellinitTellin' It for the Truth – softcover
Author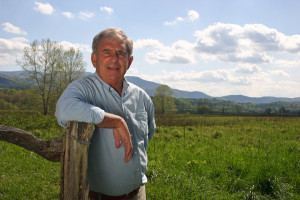 Bill Landry is the voice, host, narrator, and co-producer of The Heartland Series, which has aired on WBIR-TV for nearly thirty years. Since its beginnings in 1984, over 1,900 short features have been produced, including 150 half-hour specials. Bill has written, produced, and acted in many of the episodes.
Receiving an MFA from Trinity University at the Dallas Theater Center and a BA in literature from the University of Tennessee at Chattanooga, Bill has gone on to receive two Emmy Awards for directing The Heartland Series, the Education in Appalachia Award from Carson-Newman University, and an Honorary Doctorate in Humanities from Lincoln Memorial University.
For over thirty years Bill has written, produced, and performed his one-man play, Einstein the Man. He has presented the play over 1,000 times in thirty-eight states and two provinces of Canada.
In 2009, Bill premiered his DVD production of William Bartram – An Unlikely Explorer for the seventy-fifth anniversary of the founding of The Great Smoky Mountain National Park, which tells the tale of the little known eighteenth-century explorer, adventurer, and naturalist.
In 2011, Governor Bill Haslam appointed Landry to the Tennessee Historical Commission. Deeply rooted in the Appalachian region, Bill has served on the boards of Fish Hospitality Pantries, Beck Cultural Exchange, the Clarence Brown Theater, the Princess Theater Foundation in Harriman, and the Sequoyah Birthplace Museum in Vonore, Tennessee. In 2011, his book, Appalachian Tales & Heartland Adventures was published by Celtic Cat Publishing, and is now in its third printing.
Bill works as a spokesman for WBIR-TV and for several other companies including Hallsdale Powell Utility District. He continues to write, direct, and produce video documentaries, and gives lectures and speeches, including his popular presentations of "An Evening with Bill Landry."