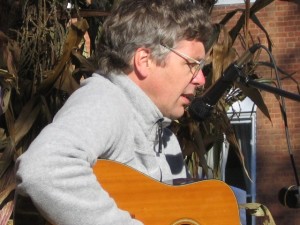 Ted Olson is the author of several books, including a previous collection of poetry, Breathing in Darkness, and a study of Appalachian culture, Blue Ridge Folklife.
He has edited numerous books, including collections of literary work by authors James Still, Sarah Orne Jewett, and Sherwood Anderson; four volumes of CrossRoads: A Southern Culture Annual; and the award-winning The Bristol Sessions: Writings about the Big Bang of Country Music. Additionally, Olson was the music section editor and associate editor for The Encyclopedia of Appalachia.
In 2008, he served as a Fulbright senior scholar, teaching American studies in Barcelona, Spain, as part of a fellowship program sponsored by Fulbright España. In 2012, for his work as a music historian, Olson received two Grammy Award nominations and also the East Tennessee Historical Society's Regional Excellence in History Award of Distinction. In 2013, he received a Grammy Award nomination for a documentary CD he co-produced entitled Old-Time Smoky Mountain Music. He holds the Ph.D. degree in English from the University of Mississippi, and he teaches at East Tennessee State University.
Author of:
Revelations: Poems
"Revelations: Poems sweeps broadly, gathering family history, displaced people, the natural world, religion, small towns, solitude, and love into a single tide washing into shore. Yet that spirit to bring things together through mystical bond is endangered by a counter current, by what Ted Olson calls "the mean American night." Without rage and without preaching to the choir, Olson asks the kinds of questions whose moral imperatives are clear, yet whose solutions can no longer be easily reached.