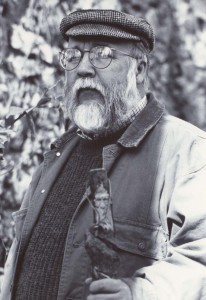 As poet, teacher, editor, printer, and lecturer, Jeff Daniel Marion has helped to create and support the literature of the southern Appalachian region over the last three decades. His poems have appeared in more than 60 journals and anthologies. His fiction has appeared in The Journal of Kentucky Studies, Now & Then and Appalachian Heritage.
In 1978 he received the first literary fellowship from the Tennessee Arts Commission. Marion was honored at the 1994 annual literary festival at Emory & Henry College. In 1996 he delivered the Palmer memorial lecture at Cumberland College and was named the Copenhaver Scholar-in-Residence at Roanoke College in 1998.
Marion grew up in Rogersville, Tennessee, and retired in 2002 after thirty-five years of teaching at Carson Newman College. Although his official residence is in Knoxville, Marion's inspiration often comes while reflecting on life in his writing retreat overlooking the Holston River. Marion's work is testament to an enduring truth: "Some springs never run dry"
Author of:
Ebbing & Flowing Springs
Jeff Daniel Marion's moving collection of poems, short fiction, and prose, spanning over thirty years of writing.
Reviews
"For twenty-five years Jeff Daniel Marion has eschewed poetic fashion and poetic posturing, going his own way, making poems that are confident enough to speak quietly to us, even gently. Yet to call these poems modest is a mistake, for in poem after poem Marion achieves a depth and profundity only the most talented and ambitious writers achieve. That this depth and profundity are also found in his prose writings adds to his accomplishment. It is my hope this book will give a writer long recognized as one of Appalachia's best writers the national recognition he deserves."-Ron Rash
"The scale and depth of Jeff Daniel Marion's achievement are now evident. In Ebbing & Flowing Springs we can celebrate the richness and wisdom of his work. His voice in poetry, fiction, and nonfiction is one of our most authentic, and one of our most beloved, by readers old and new."-Robert Morgan
"The secret title of all good poems," Galway Kinnell once said, "could be 'tenderness.'" He could easily have been speaking of Jeff Daniel Marion's new and selected poems and prose, Ebbing & Flowing Springs. In the midst of an ever-passing, ever-present natural world, Marion honors in crafted, vivid language the child, the father, the mother-even the Buddha of the cornfield and a faithful old dog. No experience, however slight it may seem, passes this poet's attentive eye. Read this book for its aesthetics, its nostalgia, its wisdom, and especially for its tenderness."-Cathy Smith Bowers